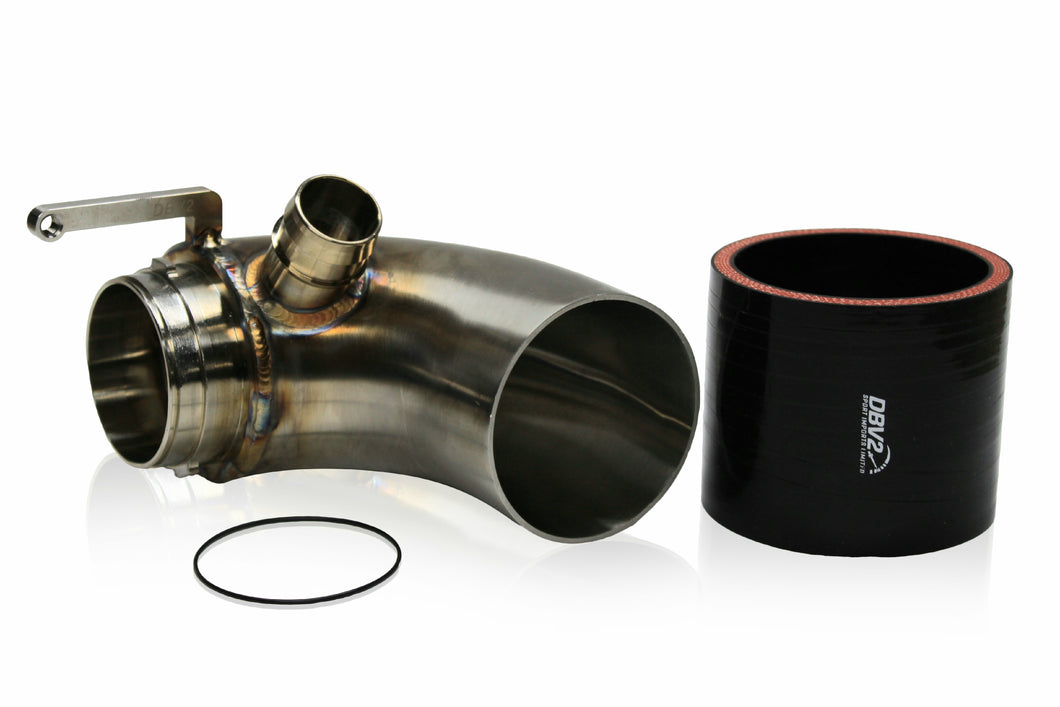 DBV2 True 3" MQB Turbo Inlet Pipe
Regular price $200.00 Sale
The DBV2 True 3" MQB Inlet Pipe reduces intake flow restrictions, allowing for a significant increase in horsepower and torque. Its large diameter and smooth transition from inlet flange to turbocharger create a smooth flow of air, allowing the engine to breathe more easily. The improved airflow leads to faster turbo spool and a quicker turbo response, delivering power more quickly and efficiently. The reduction in flow restrictions also leads to a lower wastegate duty cycle, as the turbocharger is able to reach its desired boost level more quickly and with greater ease. All of these factors combined make the DBV2 True 3" MQB Inlet Pipe an essential upgrade for any driver looking to improve their engine's performance.
PROUDLY MANUFACTURED IN CANADA!

Standard features of the inlet include:
- Locally CNC machined 304 stainless turbo inlet flange with integrated velocity stack
- Locally CNC machined PCV barb & bracket
- Designed with a smooth zero restriction from the inlet flange to turbo's inlet when paired with our DBV2 IS38 Hybrid IS38 turbo chargers for the best flow possible
- 3" 16 gauge 304 mandrel bent stainless steel piping
- Fully hand TIG welded and back purged
- Direct fit! Bolts to OEM and aftermarket IHI based turbochargers
This is the ultimate highest flowing inlet for the MQB platform.